Our relation with the Christ as He is in all His members is not direct, but mediate, through the Holy Spirit who fills His manhood. And every attempt to over-emphasize the dwelling of Christas man within us is mistaken. He is not in us that we may perceive His manhood as it is His own; but that we may apprehend it as the temple and treasure-house in which the Spirit takes what is His to give to us, as the Spirit's instrument of ministry, as God's own means of dwelling in us.
That this should prove to be the case is what any one might expect who meditates on the nature of humanity. It is conceivable that Christ's manhood is within me since God is in me, and where the Word is, there also is His manhood. It is not conceivable that His manhood is in me qua manhood; since qua manhood it is in heaven, at God's right hand.
This does not mean that intimate communion with Christ within us is not to be encouraged. Nor does it mean that He is not personally in us. Nor does it conflict with the doctrine that Christ comes to us in communion, sacramentally, and abides in us independently of the sacramental elements. It does, however, mean that His presence within us is not primarily for this purpose of personal meeting in respect of His manhood. Primarily He is in us that the Blessed Trinity may be in us. S. Paul says, "Christ liveth in me." And the Christ says, "We will come unto him, and make our abode with him." Thus we "sit in heavenly places in Christ Jesus," and are, increasingly, being "filled with all the fulness of God."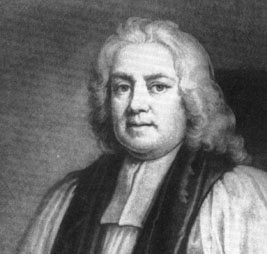 SECTION II
The end and Institution of the Lord's Supper.
ST. PAUL concludes his first Epistle to the Corinthians with this remarkable direction; "If any man love not the Lord Jesus, let him be Anathema, Maranatha:" that is, Let him be separated from your communion, as one under the displeasure of God, and, without a timely repentance, in no possibility of being saved: nothing being more grievous in the sight of God, than for a sinner to slight the greatest instance of His mercy that was ever offered to man, as well as the only means of his salvation.
To prevent this, and to hinder sinners from forgetting (which they are but too apt to do) this token of God's infinite love, and to fix the love of Jesus Christ more surely in our hearts and memory, He Himself hath taken care, that His [346] love and mercy should throughout all generations be remembered: He did therefore ordain this Sacrament as a memorial of our redemption, and of His love for us, as a pledge to assure us of it, and as an outward means and sign of testifying, as well as increasing, our love to Him.
The holy Apostles of Christ, who were present when He first administered this Sacrament, give us the following account of its institution:
They signify to us in the first place, that this Sacrament was ordained by Christ the same night in which He was betrayed; and after they had observed the Passover, which had been ordained to preserve the memory of their great deliverance from the bondage of Egypt, and which did prefigure, and was a prophecy of a much greater deliverance, which Jesus Christ was to be the Author of, not only for them, but for all mankind: and which prophecy was surprisingly fulfilled by that people, without knowing what they were doing [d], when they crucified Jesus Christ, the true Paschal Lamb, the very same month, the very same day of the month, and the very same hour of the day, that the Paschal Lamb was first ordained to be sacrificed.
Now, after the Paschal Supper, as the Apostles relate it, "Jesus Christ took bread and blessed it, and brake it, and gave it to His disciples, saying, Take, eat: this is My Body, which is given for you: this do in remembrance of Me. He took also the cup, and gave thanks, and gave it to them, saying, Drink ye all of this; for this is My Blood of the new covenant, which is shed for you, and for many, for the remission of sins: this do, as oft as ye shall drink it, in remembrance of Me. For as oft as ye shall eat this bread, and drink this cup, ye do shew forth the Lord's death till He come."
In obedience therefore to this command of Jesus Christ, who has delivered us from a much greater bondage then that of Egypt, the Christian Church keeps up the memory of His love, His sacrifice, and His sufferings, and death, after this solemn manner:
First, as an acknowledgement that our lives, and all that we eat or drink to preserve them, are owing to the bounty of God, we present upon His table, by the hands of His own [347] Minister, a portion of His creatures, the best we have for the support and comfort of our natural life, namely, bread and wine. After this the bread and wine are consecrated, the bread is broken, and the wine poured out, to represent the death of Christ, whose body was broken, and whose blood was shed for us.
The Minister of God, as the steward of Christ's household, applies these blessings to every person who receives this Sacrament, in this devout prayer; "The Body and Blood of Christ, which were given and shed for thee, preserve thy body and soul unto everlasting life."
And we may be assured of it, that this Sacrament will be to every worthy communicant, what the tree of life would have been unto Adam and Eve in Paradise; and that as they, had they continued obedient, would have been in no danger of temporal death; even so we, while we feed on this bread, now endued with a life-giving Spirit, and live as we ought to do, are in no danger of death eternal.
These being pledges to assure us, that as certainly as bread and wine do nourish our bodies, so do these seal to us all the benefits which Jesus Christ hath purchased for us by His sacrifice and death.
And when any Christian does wilfully, and for want of faith, deprive himself of this spiritual food, he falls, as our first parents did, into a state purely natural, and destitute of the means of grave and salvation.
For the happiness of the world, and of every soul in it, depends upon the sacrifice of Christ; of which we are bound to keep up the remembrance after this solemn manner: That, whenever we pray for any favour or blessing, we may remember to do it in His name: That, whenever we are so unhappy as to have done any thing which may displease God, we may remember to pray to be forgiven for Christ's sake.
For God grants whatever we ask, and which He sees to be for our good, when we ask in faith, that is, in His Son's name; and therefore the Church concludes all her prayers in these most prevailing words; for Jesus Christ's sake.
In one word; we do by this Sacrament keep up a continual correspondence with our Lord in Heaven; and hold communion with Him, and with all the members of His [348] Body, which receive nourishment and growth from Him, as the branches of the tree in which they are grafted, and from which when they are separated, they can bear no fruit, and are only fit to be burned.
And as every Christian is obliged, at the peril of his soul, to observe it, so the duty must be such, as every one, even the most unlearned, may understand, if it be not his own fault. And so indeed it is: for as an Israelite, under the Law (Levit. i. 4), being obliged to lay his hand upon the head of his sacrifice, confessing his sins, and laying them, as it were, upon that creature,--as he did easily understand that this was to shew him that death was the due reward of sin; that this ought to humble him before God, and to give him the greatest abhorrence of sin, which could not be pardoned but by the loss of the life of an innocent creature:--
As this was plain to the meanest Israelite, even so the most unlearned Christian, when he considers that our Lord Jesus Christ became a sacrifice for us, and that on Him all our sins were laid,--on Him who knew no sin;--he will easily understand how sad our condition was, which required such a sacrifice: that this therefore ought to humble us, to lead us to repentance, to make us fearful of offending God, and to abhor those sins which cost Jesus Christ His life, before God could be prevailed with to pardon them.
He will also easily understand, that the love of Christ, and the remembrance of His death, ought to be very dear to us; and that the oftener we remember it in the manner He ordained, the more graces we shall receive from God, the firmer will be our faith, the surer our pardon, and the more comfortable our hopes of meeting Him, not as an enemy but as a friend, at whose table we have been so often entertained.
Spiritual Disciplines for the Christian Life by Donald S. Whitney

Donald Whitney's study, The Spiritual Disciplines in the Christian Life is also highly regarded by Evangelicals and Charismatics. This month only,
christianaudio.com
is offering an audio download of Whitney's book for free. You can download to your computer and listen on your mp3 device at no charge. Please take advantage of this excellent offer. 
Hey Guys! 
I had the privilege to see the St. John's Bible Exhibit at the Mobile Museum of Art in Mobile, Alabama, yesterday.  It was SPECTACULAR!
The Saint John's Bible is an ongoing project, commisssioned by Benedictine Monks in Minnesota, to hand write (calligraphy) the whole Bible in the style of the monks of the Middle Ages and prior.  It is "authenitic" in the sense of being done on calf-skin pages (vellum) with the hand-mixed ink and paints, and hand-made goose quill pens, etc., according to the traditional techniques.  It is being done, as inspired by the beginning of the 3rd Christian Millenium, by an artist group in Wales, GB. 
This is far more than just hand-written text.  The Biblical Art-Work that is married into the text is absolutely astounding ! with (mostly) more comtemporary style paintings in multiple colors and Gold Leaf. 
One MAIN POINT is the rare privilege to have an exhibition of this nature in the area ! 
Exhibiting these pages is rare in itself, and there are only two other concurrent exhbitions for this year in the country (other parts of the Bible that have been completed)--as you can note on the website.  It is a RARE opportunity to see Christian Masterpiece in the making, in my humble opinion!
Museum admission is $10 per head (for all of the exhibits), and the St.John's Bible exhibit ends on April 12th.
If you can get to Mobile before the 12th to see it, I think you will find it to be well worth the effort!
Respectfully,   Clay
(submitted by Clay Rowe)